It Is Important That You Are Well Educated When Choosing an Egress Window System For Your Home.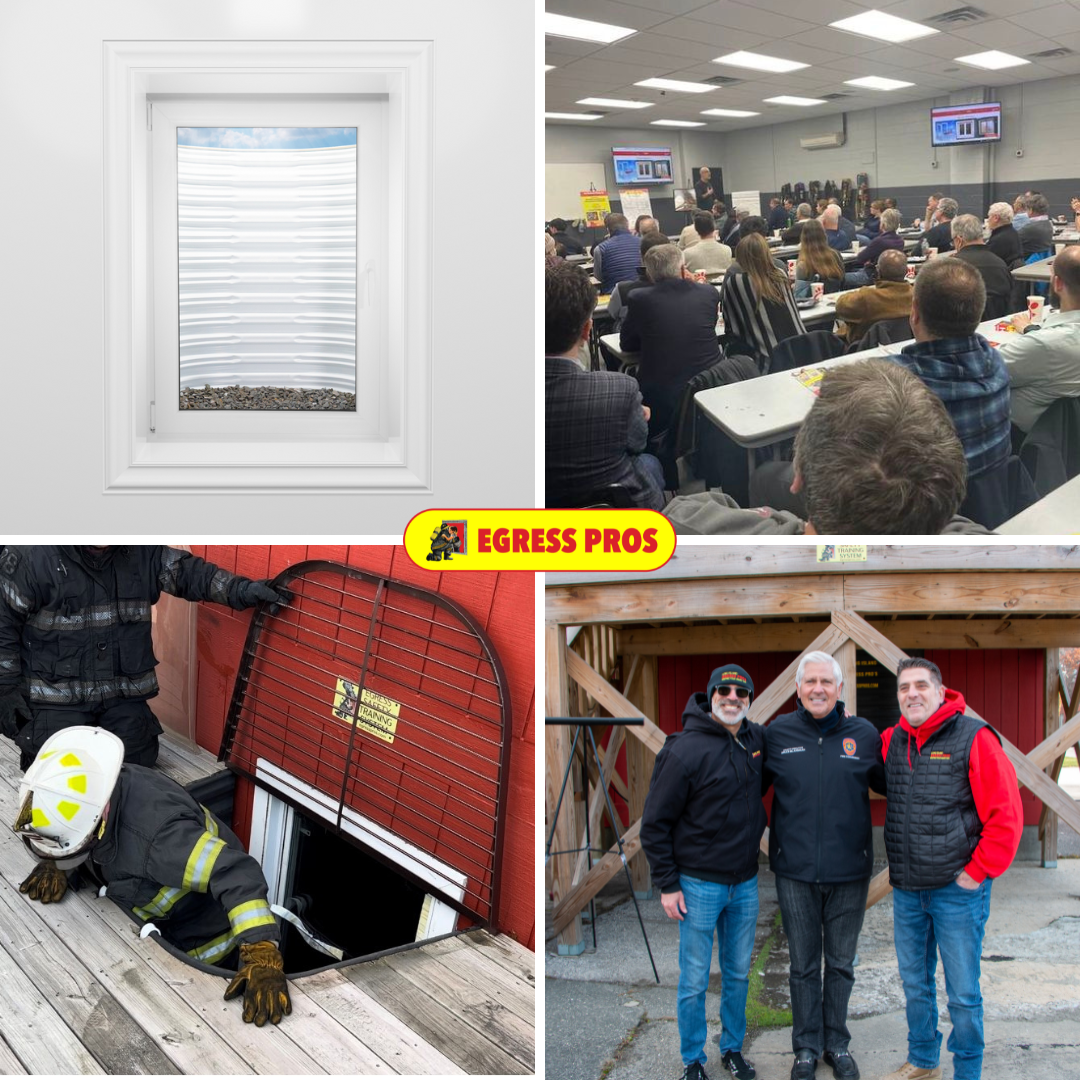 Not all egress window systems are created equal. It is important that you are well educated when choosing an egress window system for your home. Your life will depend on it. Prior to choosing the company to install your egress window system be sure to do your research. Not all egress installations are created equal. At Egress Pros all we do is egress.  
Since 2014 Egress Pros has successfully installed thousands of egress window systems. Since installing our first egress window system we realized the code is good, but we can make it better. During an emergency, the most important attributes of an egress window is functionality, speed , and ease.   
The Egress Pros system is among the most reliable, innovative, and safest egress system available; the Egress Pros Emergency Escape System will save lives & reduce property damage in the event of a fire. What makes the Egress Pros system different?
Egress Code (NYS and Federal code)
The height of the clear opening must be at least 24″ and the width must be at least 20″. The sill height must not be more than 44″ above the floor. If the sill height is below grade, the window must have a window well. The window well must be at least 9 sq.
Egress Pros improvements
1. Egress Pros Windows
-Every window we in our assortment exceeds required code size.
-Windows have a single handle for quick release. ( no crank out windows)
-Open windows by pulling into the room. No crank. Windows do not take up value well space.
-Screens are slider style for ease & speed.
2. Well Size
-All Egress Pros Wells exceed state & Federal code.  
-All Egress Pros Wells are one solid piece.
-Galvanized / enameled coated steel wells option .
-Composite fiberglass well option
-Custom mason wells available
3. Assistance
-Grab rails are available to ensure physical challenged have the ability to get out
-Passive Fire Protection available with our Fire Extinguisher ball www.firesafetyball.com
-Water management. All systems are installed with a dry well or sump pump.
-Every install is provided a basement & egress window safety guide .
-Reflective home stickers E. First responders will know there is an egress & where the egress is located.
-Reminders from schools, fire houses, political leaders: egress saves lives.
-Passive Fire Protection ( boiler rooms, Lithium battery, Christmas trees & more) This is a lifesaving product    www.firesafetyball.com
Why choose Egress Pros to install your egress window system? At Egress Pros we take egress seriously so seriously its all we do.
1. All we do is EGRESS
Egress is in our name. We have installed thousands of Egress window systems throughout Long Island and the boroughs. Our exclusive one-day installation process ensures your window system is installed to exceed Federal & state egress codes.
2. We use code compliant products & follow Federal installation requirements
Every component Egress Pros uses to install your egress window system exceeds NY state egress code. Not all egress systems are created equal. Our exclusive Egress Pros Emergency Escape System is designed for speed and ease ensuring the safety of your family and our first responders.
3. Egress system options
Egress Pros understands that choosing an Egress window system for your home is not a one size fits all. We offer many different window and well options based on your needs and budget.
4. Stock
Our corporate headquarters and 10,000 sq. warehouse is located in West Babylon, LI. We are in stock on on all egress supplies including windows, wells, and all components. We have a showroom with our products on display. 
5. Already have an Egress window?
We have you covered.. Our team will design & manufacturer a custom well cover exclusively for your home. Our mechanics will custom design a weight bearing cover that will also reduce the amount of rain, snow, and leaves that can potentially get into your well. Covers, ladders, and window changes. If you have a crank out window don't be cranky contact Egress Pros and our team will replace that hard to open window with our Tilt & in-swing egress window.
6. No Mess No Stress
We are homeowners too. Egress Pros installs a code compliant regress window system in one day. We hand dig ensuring the safety of your home and lawn. In your home we will set up a protective "bubble" to keep your home dust free. We will remove all waste upon completion. The only sign that we were at your home will be your new BIG WINDOW.
7. We are here for you
Every install is backed with our limited warranty. If you should have any questions prior, during, or after your system is installed contact the Pros.
At Egress Pros our hope is that you and your family are only using the egress window to enjoy fresh air, sunshine, increased home value, and peace of mind. Fires and other emergencies can happen. Don't Wait Till It's Too Late. Be prepared make your basement and family safe install an Egress Pros Emergency Escape System today.